The Great Allotment:
Pullen Point's First Land Owners
Most every town has interesting stories to tell about the people who were the founders or settlers. Winthrop's story is unusual in that there is a group of 15 men who were the first land owners in the town, but are rarely discussed as the founders, or first settlers.
In the group is one very prominent person. Governor John Winthrop, one of the founders of Massachusetts. He was granted land on Pullen Point, but his "home" was on 600-acres of land called "Ten Hills" on the banks of the Mystic River, now Somerville, Mass.



Pullen Point before the Great Allotment
Both the authors Charles Hall and William Clark in their 1902 and 1952, respectively, books on Winthrop discuss in detail a house they say was built and occupied on Pullen Point in 1634 by a William Chesebrough. It is recorded in the Boston Book of Possession, "That all the drye cattell that are put unto our brother William Cheseborough for keeping at Pullen Poynte Necke." But no sources are cited for the details they provided on his house, furniture, utensils, etc.

William was a Constable in Boston, an important position responsible for ensuring all local ordinances and laws were being followed, and collecting taxes. He also was married with children and had a house in Boston. It seems more likely he would have had an indentured servant positioned on Pullen Point guarding the cattle. William would shortly leave Boston and move to Braintree. Later he would move again and be credited as the founder or Stonington, Conn.

Two of the 15 became prominent politicians elsewhere. John Sanford was the eighth signatory on the Portsmouth Compact setting up what would become Rhode Island. William Brenton was an early President and Governor of that state.

William Pierce was a noted sea captain who had made many trans-Atlantic voyages, and is familiar to people of the town today for his home that would become the Deane Winthrop House.

Edward Gibbons was an adventurer and military man who would become the Commander of the Artillery Company. Rememberd now for the "Gibbons Elm" and what would become the Bill House, now demolished.

Both of these two men "settled" on their land on Pullen Point after long and interesting careers. But descendants of neither stayed on Pullen Point, and both men also had houses in Boston.

There were merchants, Valentine Hill owned one of the major docks in Boston, but he is better known as an early settler of the land on the Oyster River, today's Durham, N.H.

Occupations of the others include: surveyor, glover (leather dresser), drapers (cloth seller), gunsmith, cooper, yeoman (farmer), ferryman, and brewer. A diverse group, and an interesting cross-section of the first Bostonians. But no women, no indentured servants, and no slaves. So not an accurate representation of the entire population, but one sub-group worth exploring.

The individual pages available in the navigation include a description of each of the 15 men, who they were, what they were known for, their families, and selected information on noteworthy descendants, locations, and objects.



The First Settlers in Boston

On the day in 1630 when John Winthrop sailed into Massachusetts Bay beginning the Puritan migration, he found Anglican-leaning Episcopalians living there already. Not many, only three small groups, but they were there first and thought they had a charter to the land they had settled on.

Seven-year earlier Captain Robert Gorges had arrived at the recently abandoned Wessagusset settlement (Weymouth, Mass.) with 120 settlers, and the position of Governor from his father's, Sir Ferdinando Gorges, patent to Massachusetts Bay. The hope was for the colony to prosper through beaver trade and controlling the lucrative fishing business. Financial problems, shifting political conditions in England, and issues with the leadership doomed the effort. Gorges and many returned to England, others went to Virginia, and few stayed and resettled further north in the Bay.

William Blaxton (Blackstone) had earned a Bachelor's and Master's degrees from Emanuel College, Cambridge, England, before becoming ordained an Anglican priest. Disagreements with the church lead him to sign on as one of two chaplains traveling to the New World with the Robert Gorges expedition. After the Wessagusesset settlement failed in 1625, Blaxton stayed on and moved to a location near a fresh water spring on the Shawmut peninsula. With a collection of 186 books, and a quantity of apple seeds, he established a homestead and planted an orchard on would become Boston Common and Beacon Hills.

Five years later, living alone on the peninsula, Blaxton witnessed the problems the recently arrived Winthrop followers were having finding good drinking water in Charlestown, and offered to share what he thought was his land. Unfortunately for Blaxton, Winthrop's new charter superseded all others, and he had to be satisfied receiving a substantial grant of 50 acres of land in the new town of Boston.

Blaxton eventually tired of the intolerance of his Puritan neighbors and in 1635 sold his land back to the town and left eventually settling 35 miles south of Boston on the Pawtucket River, now known as the Blackstone River. This was one year before Roger Williams would leave Salem, Mass. and found Providence, R.I. The "Yellow Sweeting" apples Blaxton cultivated are considered by some as New England's first variety.

Thomas Walford was a blacksmith in the original Robert Gorges expedition. When the settlement failed, he and his wife Jane moved north to a peninsula named by the Native Americans Mishawum (today's Charlestown) just across the harbor from Blaxton at Shawmut. On the south slope of what would be Breed's Hill they built palisaded and thatch house. There they fished, cultivated land, and began trading with the Native Americans.

Their seclusion would end in 1629 when a party was sent by then Governor John Endicott in Salem, Mass. to prepare a location for the expected arrival the following year of the main party of Puritans lead by John Winthrop. A band of 100 men arrive, give the area its name Charlestown, and begin laying out streets.

With no clear title to their land, Episcopalian leanings, and used to having their independence, the Walfords didn't fit in with thjeir Puritan neighbors. Charged with "contempt of authority and confronting officers" and not conforming to "sabbath observances," they were banished in 1631. The Walfords left and settled on land called Strawberry Banke at the mouth of the Piscataqua River. The area, while still legally under the Massachusetts Bay land grant, had become home for a number of people who dissented from the strict rule Puritan rule.

Strawberry Banke would become Portsmouth, and Thomas would become a church warden and selectman, and be granted 160 acres of land that would become the "Walford plantation," 40 acres of which, the Hett Farm, was just sold in 2014.

-

The History of Charlestown, Massachusetts

-

Richard Frothingham, 1845, Internet Archive

-

Piscataqua Pioneers, Interesting People of Early Portsmouth

-

Old Eliot Monthly, Vol. 9, J.M. Moses, 1909, pg. 8, Internet Archive

-

Walford, The pioneers of Maine and New Hampshire, 1623 to 1660

-

Henry C. Pope, 1908, pg. 217, Internet Archive

Samuel Maverick is the best known of the first settlers, with his name attached to numerous places in today's East Boston, Mass., then Noddle Island. It is believed he was the son of Reverend John Maverick, who emigrated in 1630 and became the first minister of the first church in Dorchester. Two of his other sons are also notable people in early Massachusetts history. Elias Maverick was one of the original Pullen Point land owners, and Moses Maverick is identified as the founder of Marblehead, Mass.

Samuel arrived in New England much earlier than the rest of his family. His connection to the failed 1624 Wessagusesset settlement is not as strong as either Blaxton and Walford, but he has been associated with explorations by Captain Robert Gorges at that same time. By 1625 there is a record of him living at fortified house at Winnissimet (today's Chelsea) built with the help of David Thompson, another explorer connected with Gorges, and the original settler of the island that now carries his name, Thompson's Island.

David Thompson died in 1627, likely drowned, and Samuel married his widow, Amias (Cole) Thompson, in 1628, taking responsibility for her children.

Like Blaxton and Walford, Maverick's world would change dramatically in 1630 when John Winthrop and the Puritans arrived. Initially distinguished for his hospitality, public spirit, and knowledge of the area, Samuel was given the substantial land of most of present day Chelsea, Mass., and all of Noddle Island, present day East Boston, where he then moved in 1634. Other substantial land grants followed in Maine and in Braintree. But his Episcopalian faith, his Royalist leanings, and likely his aversion to Puritan discipline, would eventually cause problems.

Even though Samuel's father was a Puritan minister, and his son would marry the daughter of Antinomian leader, Rev. John Wheelwright, Samuel's relations with the Puritan elders would deteriorate. After a temporary incarnation, he would sell off his land and go back to England to air his grievances, returning as a Royal Commissioner. Unsuccessful in his efforts to break the stranglehold the Puritans had on the Massachusetts Colony, he settled in New York and continued a successful career as a merchant trading goods up and down the East coast. It is thought that he died in 1670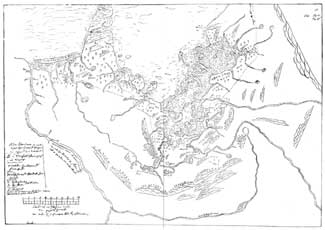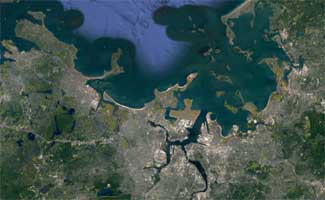 The Great Allotment, or …

The granting of land on Pullen Point was called the "Great Allotment." The expression is accurate in one way. There was great deal of land available to be allotted.

It is sometimes difficult to get a grasp on how long ago this was all taking place. In 1630, the year John Winthrop's fleet sailed into what would become Boston Harbor, Galileo (b. 1564) was still alive making discoveries in science and mathematics. William Shakespeare had just died in 1616. Rembrandt (b. 1606) was painting in the Netherlands. It would be 50 years before the French explorers Jacques Marquette (b. 1637) and Louis Jolliet (b. 1645) paddled a canoe on to the upper reaches of the Mississippi river. It would be almost 150 years before the American Revolution.

The success of John Winthrop's colony in Boston harbor was not a given. The population of the Pilgrim Colony at Plymouth was almost up to 300 by 1630, and there were smaller colonies at Scituate, Salem, and farther north at the mouth of the Piscataqua River (Dover and Portsmouth). But there had been failures too. The first attempts at settlements at Phippsburg, Weymouth, and Gloucester had failed.

After a difficult first winter, saved by a fortuitous arrival of supplies on a ship captained future Pullen Point land owner William Pierce, the well-funded, well-organized, and well-lead Boston Puritan colony would become a success.

With a Royal Charter that superseded all others, and allowed it to establish its own government subject only to the king, the new colony was ready to "negotiate" with the Native Americans, then divide up the land and start new settlements. There was land to be granted, but only to those men who were in, or favored by, the Governor or members of the General Court.

Land was available for allotment northeast of Boston on Rumney Marsh (Revere), Winnisimmet (Chelsea), and Pullen Point. West of Boston along the Muddy River (Brookline). South of Boston in Dorchester and Wollaston (Quincy). Charlestown, Cambridge, Braintree, and other nearby town also were allotting land. All this to accommodate the estimated 20,000 Puritans that would emigrate to all parts of New England from 1630 to 1640. The population of Boston went from one in 1629, to 1,700 by 1640.

The records of this time show three types of land ownership. In a town, a man could be granted, buy, or sell a "house plot" or a "garden plot." Land granted outside of a town, for grazing or farming, was called a "great lot." So possibly the "Great Allotment" was the allotments of many "great lots."

Church Membership and the Freeman's Oath

Religion and government were deeply intertwined in the early Puritan Boston Colony. Attending worship services was a requirement for everyone, with fines or time in the stocks for those who didn't attend. And while attendance was mandatory, only a small minority of people became "Church Members." That required going before a panel of church elders to describe a conversion experience. All he Pullen Point land owners were admitted to the church soon after they emigrated. Some were in the "Great Fleet" that came with Winthrop, others came later, but with existing Puritans groups and did not have to prove themselves devout.

Next higher up in the social hierarchy of the colony were the Freemen. They could vote for the deputy and assistant governors who, along with governor, passed judgement in civil and criminal matters. To become a freeman one had to be at least 25 years of age, have a family, have no debt, and be Church Member. They also were required to take the Freeman's Oath. It pledged their allegiance to the civil and religious authorities. All the Pullen Point land owners had taken the Freeman's Oath.

Ancient and Honorable Artillery Company

In the 1630s, all adult males between the ages of 16 and 60 (except for ministers and magistrates) were required to have a firearm and ammunition. For protection, individual towns followed the English tradition of electing men with military experience to form local militia called "train bands." As more towns were settled, it became evident that a more organized military force would be needed for joint actions with a centralized authority.

Many of the settlers of the colony had been members in England of the "Honourable Artillery Company" (HAC) of London, and the military training they had received in that company led them to form a similar organization in the new country. Initially fearful of a perceived threat to its authority from a military unit not under its direct control, it wasn't until 1638 that the General Court approved the creation of the "Military Company of the Massachusetts." The "Ancient and Honorable Artillery Company," as it is now known, it is the oldest chartered or volunteer military company in the United States and the Western Hemisphere.
Seven of the 15 original Pullen Point land owners were members of the organization, including; William Aspinwall, Edward Gibbons, Valentine Hill, Elias Maverick, John Oliver, William Stitson, and Deane Winthrop. Gibbons had lead a train-band in Boston, and in 1639 was made the commander of the Artillery Company. A position he held in 1641, 1646, and 1654.

Antinomian Controversy

Coinciding with the final allotments of land on Pullen Point was a religious and political conflict that would result in half the men losing, or being forced to sell, the land they recently had been granted.

The theological struggle was between the entrenched Puritan establishment and an "antinomian" group (Greek anti, "against", and nomos, "law", "against the law") that had a different view on how an individual acquires the "grace of eternal life" from God. The political struggle is evident in the turnover in the position of Governor during this time. Over a twenty-year period starting in 1629, the colonists voted to change who held the office twelve times among five men. John Winthrop was elected Governor four times (losing three times), eventually dying in office during his fourth term.

For citizens who had been supporters and followers of the Antinomians leaders John Wheelwright and Anne Hutchinson, there were consequences. Individuals could be: disarmed, required to turn in their gun and ammunition; disfranchised, losing their Freeman's status and right to vote; fined; and in the worst case, banished from the colony (which typically meant moving to more lenient settlements in Rhode Island, New Hampshire, or Connecticut) and excommunicated from the church. Some people just left on their own accord frustrated with the restrictions imposed by the Puritans. And there was leniency. The accused could recant, acknowledging the error in their beliefs, and stay.

Of the 15 men who received land on Pullen Point, seven were identified as Antinomians. They are:

William Aspinwall – A prominent Boston ruling elder, he wrote and signed first a petition in support of the Antinomian leader John Wheelwright. Disarmed, disfranchised, and banished, he moved the Rhode Island. In 1642 he "acknowledge his error" and was back in Boston. His advancement was quick becoming the Recorder and Notary Public (see the "Aspinwall Notarial Records"). He was back in trouble with the law on a civic case in 1651, lost his job, and went back to England. There he joined the "Fifth Monarchists" group active during the English civil war.

Edward Bates – Emigrated as an indentured servant to Thomas Leverett (his son would become a Governor of the colony) aboard the "Griffin" in 1633. Edward earned his freedom in 1637 and became a cooper. As a supporter of Antinomians, he was disarmed, but recanted.

William Brenton – A Deputy to the General Court and a Selectman in Boston, he voted not to censure the Antinomians. Faced with the displeasure of the majority, he moved to Rhode Island. In 1649 he was back in Boston, but later he went back to Rhode Island where he rose to become Governor.

Ralph Hudson – A woolen draper (cloth seller) had been elected a Constable in 1637, just before signing a petition in support of the Antinomians. He "acknowledged his error," was not disarmed, and stayed in Boston.



Long way around

Other than for the islands in Boston Harbor, the land in Great Allotment that was most isolated and difficult to reach was Pullen Point. For land on the Muddy River (Brookline), Boston Neck, Dorchester, Braintree, and Quincy, there were roads leading directly into Boston. The overland route from Pullen Point to Boston in the 1630s was over 20 miles, circling through what would become Revere, Everett, to Malden, Medford, across Mystic River on the recently built (1637) Cradock's Bridge, to Cambridge, Roxbury, and then up Boston Neck.

The early settlers in Charlestown and Winnisimmet (Chelsea) realized the problem and immediately established ferries to Boston. Pullen Point land owner William Stitson would take over the Winnisimmet ferry when he married the widow of the original operator died (he lived in Charlestown).

There were options for travel from Pullen Point to Boston. You could take your own boat and sail across Boston Harbor, depending on the wind, tide, and weather. There was a boat landing where Mill Creek meets Chelsea Creek, at the spot where Spade's Mill would be built. The Winnisimmet ferry landing was a seven-mile trip north out of Pullen Point on Native American trails to Crescent Beach, today's Revere Beach, then inland into Rumney Marsh (Revere) skirting Vane Hill (for Governeor Henry Vane, later Fenno's Hill), around the end of the Mill Creek Marsh, then southeast around Power Horn Hill, and south to the landing.

It wouldn't be until 1796 that there would be a ferry from Noddle's Island (East Boston) to Boston. And it wouldn't be until 1839 that a bridge would connect Pullen Point to Hog Island (Orient Heights).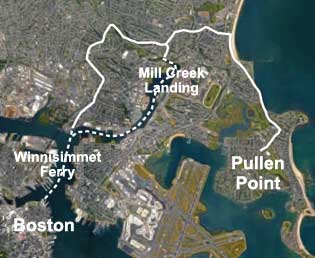 Thomas Matson – A gunsmith by trade, he had emigrated to Boston with the original 1630 Winthrop fleet. As a supporter of the Antinomian Wheelwright, he was ordered to be disarmed, clearly a problem for a gunsmith. As a solution, he "acknowledged his error," and moved to Braintree where he became a member of the Church there, and Sargent of a "train-band." He did not lose his gun shop in Boston, and was elected a Boston Constable in 1654.

John Oliver – A surveyor by trade, and despite being a member of the Deputy in the General Court, he was caught up in the Antinomian Controversy having signed a petition in favor of John Wheelwright. He was disarmed and dismissed from his position. Recanting, he "acknowledged his error," and decided to attend the recently founded Harvard College as a divinity student.

John Sanford – A surveyor, familiar with military matters, he was chosen as a cannoneer for the fort protecting Boston. He was also an employee of John Winthrop serving as a business agent in London, emigrating to Boston aboard the "Lyon" with Mrs. John Winthrop also a passenger. In Boston, his first wife died in childbirth of their second child. John remarried Bridget Hutchinson, the daughter of William and Antinomian leader Anne Hutchinson. Now caught up in the Controversy, John was disarmed and moved with his family to Rhode Island where he was chosen in the following years, Constable, Secretary, Treasurer and General Recorder, Head Magistrate, and eventually President of the Colony, dying in office in 1653.

Of the eight men not caught up in the Controversy, one was John Winthrop, Governor during the trials. Of the others, two, Edward Gibbons and William Pierce, were "season adventurers," and likely were allowed some degree of moral flexibility because of their importance to the success of the colony. Thomas Fayerweather died at the time of the controversy. Valentine Hill had married the cousin of Anne Hutchinson, but didn't align himself with the Antinomians. Thomas Buttolph, a glover and leather dresser, stayed aligned to the Boston Church. Elias Maverick and William Stitson were living in Winnisimmet, and stayed aligned with the Charlestown Church.

A little under 200 men were connected in some way in the Antinomian Controversy. This out of a total population of about 1,000. Adding in wives, children, and servants, the disruption in peoples' lives must have been substantial. But all the people involved were still Puritans, and no one was harmed. That was not the case for the Quakers who began arriving in 1656. They faced beatings, whippings, imprisonment, mutilations, and several were hung. And also not the case for the victims of the Salem Witch Trials, twenty of whom were executed and five died in prison.

Links

| | |
| --- | --- |
| • | |
| • | |
| • | |
| • | |
| • | |
| • | |
| • | |
| • | |
| • | |
| • | |
| • | |
| • | |
| • | |
| • | |
| • | |
| • | |
| • | |
| • | |
| • | |
| • | |
| • | |
| • | |
| • | |
| • | |
| • | |
| • | |
| • | |
| • | |
| • | |
| • | |
| • | |