James Bill (1615-1687)
Mary Bill (1617-1688)
James Bill, son of John and Dorothy (Tuttle) Bill, was born in England in 1615, He came to Boston with his parents likely prior to 1635 at the age of 20 years. John Bill died in 1638, and Richard Tuttle, Dorothy brother, took responsibility for his sister and her six children, including her eldest, James. Richard Tuttle was a freeman, a Selectman, and the Chief Constable for Boston. He was allotted over 160 acres in Rumney Marsh, eventually becoming a major land owner, including the lot in Boston where the Old North Church was built. He died in 1640 at the age of 47.

"...There can be no doubt of the great prosperity of James Bill, and especially at this period, for we find him the owner of large estates, and these were chiefly located at Pulling Point -- the home of many of the most distinguished families of those times. "
"He [James Bill] and Deane Winthrop (whose farm in 1690 included Point Shirley, Great Head, and the beaches) at one time owned nearly all of Winthrop. It is thought that he lived in the Gibbons house, though one, if not all his three sons, lived in the old Bill house now standing
on Beal Street."
"...by 1671, James Bill owned almost all of what is now Winthrop; his neighbor, Deane Winthrop, owning what Bill did not. In adnt of view, owned considerable other property elsewhere, including wharves, fishing vessels, two negro sldition, this James Bill, probably the most important Inhabitant of early Winthrop, from the economic poiaves, several houses, cattle, sheep and swine, and, in Winthrop, 80 acres of arable land and 170 acres of pasture.

...During the entire 18th century, as the name of Bill gradually vanished, the town came into the entire possession of the Belchers, Floyds and Tewksburys.

...That census [1840] showed a population of 156, of which number 142 were descendants of James Bill, although not of his name. "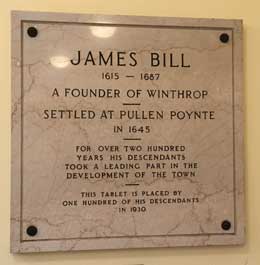 James Bill
1615-1667
A Founder of Winthrop
Settled at Pullen Poynte
in 1645
For over two hundred
years his descendants
took a leading part in the
development of the town
This tablet is placed by
one hundred of his descendants
in 1930