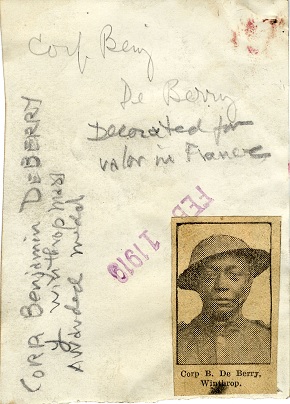 State Library of Massachusetts


Sources:
- Benjamin Francis DeBerry, The Ulf Family Media Archive by David Ulf
- The American Negro Soldier With The Red Hand of France, Monroe Mason, Arthur Franklin Furr, 1920.

- List of Individuals Sited for Bravery, Negro Year Book, Volume 5, 1918-1919, Tuskegee Institute, 1919

- 372nd Infantry Regiment (United States), Wikipedia

- 372nd Infantry Capsule History, AfriGeneas, Jim Ball

- The Record Of The 372nd, The American Negro in the World War, Emmet J. Scott, 1919



Winthrop Transcript - March 8, 1919
Benj. De Berry Returns Home
"Our well known fellow to townsman, Benjamin F. De Berry, is back again among his friends In Winthrop. Ben bas just returned after two, years' absence, and as we all may have anticipated, he came home with honors, and this will please his friends as well as the town of Winthrop. He is the second man to receive this honor, the "Croix de Guerre."
Corporal De Berry enlisted in old Co. L, 6th Mass. Infantry, and the outfit was eventually merged into the French Army, and it was while a member here that Corporal De Berry covered himself with glory. It was in the Champagne sector that opportunity came during an 11-day battle, Sept. 28 to Oct. 7, and on Dec. 17 the regiments in his division were ordered to assemble, and it was at this point that Corporal De Berry, with 5 others from L company, were called to the front and there received their coveted possessions from General Gobert [Goybet], commander of the 157th Division, 4th French Army, and was awarded for "extraordinary bravery and meritorious service" when is regiment stormed and took Rimfont, Andiene, Schalt and Bussey Farm, 12 men from his company were killed.
Ben says "it was oen of the peculiar things of his service, after training in the American army, on arrival at Condec, France, were transferred into the French army, and had to undergo 6 months' training as French soldiers."
Corporal De Berry was in command, in several battles, of the Automatic Rifle Squad, often going into action as shock troops. The following list of French towns and engagements are: St. Nazaire, Condee, Belfountaine, Camp Kopp, Noveau Cottage, Haute Cheverie, Lamont, Argonne Forest, west, Verdun, second front, 304 Hill, Verdun, third front, Dead man's Hill, P.C. Rowan, fourth front, Verdun, Dombanie, Julvecourt, Epothemont, Jussecourt, Mnnicourt, Somme, Bronne, Hans, Champagne, Front, over top, sixth front, Repont, Anould, Ban de Laveline, Front Line, 8 days rest, Granges, Brest, Home, Hoboken, Feb."