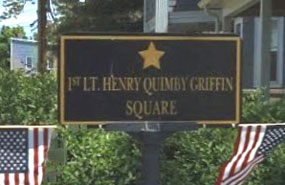 Sources:
- American Legion Post 146, Winthrop, Mass.
- Heroes All! A Compendium Of The Names And Official Citations Of The Soldiers And Citizens Of The U.S. And of Her Allies (1919)

Henry Q. Griffin - U.S. Army, WWI - was Commander of Co. B,109 Infantry, 28th "Keystone" Division. On July 16, 1918, he led his company on an attack on German forces at St. Agnan, France. The initial attack was repulsed and he was severely wounded. Despite his wounds, he rallied the company and led a second assault. This time overcoming the enemy force. He was wounded again, this time fatally. He was posthumously awarded the Distinguished Service Cross for his action, the second highest award for valor given by this country. He is only one of two Winthrop servicemen to be awarded this honor. He is buried in Winthrop Cemetery.





GRIFFIN, HARRY Q.
Second Lieutenant, U.S. Army
109th Infantry Regiment, 28th Division, A.E.F.
Date of Action: July 16, 1918
Citation:
The Distinguished Service Cross is presented to Harry Q. Griffin, Second Lieutenant, U.S. Army, for extraordinary heroism in action on Hill 200, near St. Agnan, France, July 16, 1918. When the first attack on Hill 200 was made by American troops on July 16, 1918, Second Lieutenant Griffin led his platoon to the most advanced point reached by any detachment and was killed when within 20 yards of an enemy machine-gun emplacement.
General Orders No. 99, W.D., 1918
Home Town: Winthrop, MA

Memorial location: Corner of Fremont and Jefferson streets.

Google Maps Street View
View Google Map