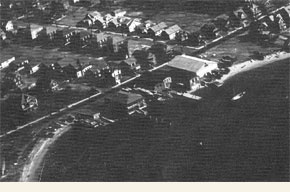 Reid Yard location on Pleasant St.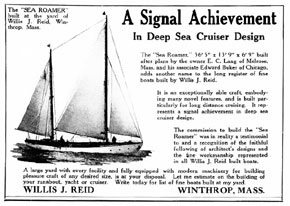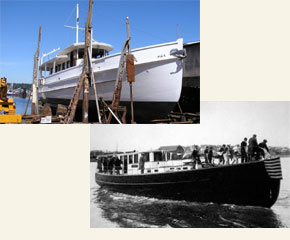 Northwester and Chiro


More on Northwester



"The Reid Boat Building Yard, formally on this site, was an active maritime facility in Winthrop from the 1920s to the late 1950s. Under the proprietorship of Willis Reid, the yard built a variety of small-to-mid-sized sail and motor yachts, and powered utility vessels. During World War II, Reid's contract with the U.S. Navy provided that branch of the service with many tugboats and motorized cargo barges.
World renowned marine architect John G. Alden of Boston, designer of racing and pleasure craft of unique beauty and proportion, provided Reid's yard with the opportunity to showcase watercraft of the utmost quality and functionality.

Among the more memorable vessels built at Reid's yard were the 29 ft. schooner "Aloette" and the 32 ft. yawl "Two Brothers" (both built in 1931), the sloop/cutter "Tamora" in 1934, and regionally famous 16.9 ft. Mass Bay Indian Class sloops, which prominently won their facing class for years. But perhaps Willis Reid's most noteworthy vessel was the wooden motor yacht "Chiro" built in 1932. After relocating to the west coast it was renamed "Norwester" and became the property of John Wayne and his business manager. Until it was sold in 1963, the regaled Hollywood elite with deep sea fishing parties. The craft still cruises the coast of the Pacific Northwest to this day.

With the demise of the Willis Reid boat yard, Winthrop's boat building came to an unceremonious close, and another chapter in Winthrop's history was gone forever."
s

Reid's Boat Building and Repair
Current business in Wilmington, NC owned by Richard Reid, grandson of Willis Reid. Website has history page with pictures.

List of boats built at yard - Shipbuilding History

Location: Pleasant Street, foot of Tileston Rd.
View Google Map